Udaipur Massacre: Internet Shutdown will remain in these 25 districts, including Jaipur, for the next 24 hours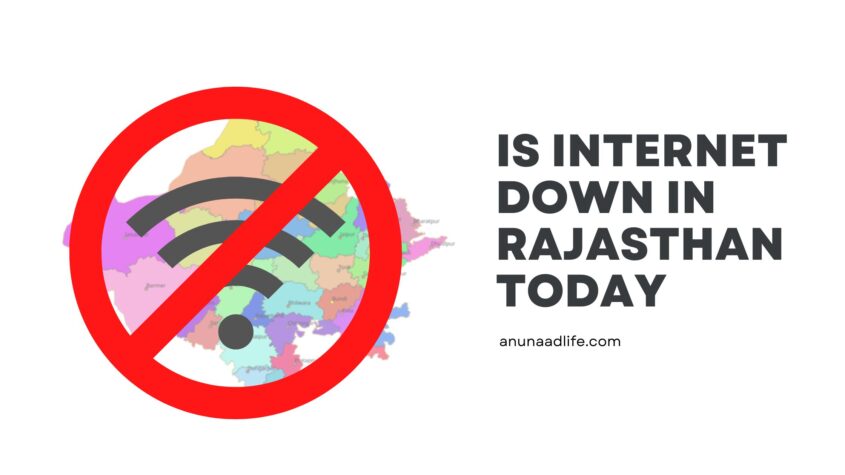 Thousands of people took out a silent rally from the city's town hall to the collectorate on Thursday in protest against the brutal murder of Taylor Kanhaiyalal by two Muslim youths in the Dhan Mandi police station area of ​​Udaipur. The call for this rally was given by 'Sarva Hindu Samaj', in which a large number of the general public, as well as members of Hindu organizations, participated. There was outrage in the whole country after the massacre. Section 144 is in force in the entire state for one month. Internet was banned 24 hours after the incident in most districts, which has now been extended to Friday evening. The administration has raised this to maintain peace and order. Internet will be closed in 25 districts of the state till Friday evening.
Internet Shutdown in Whole Rajasthan
Internet Shutdown in Jaipur, Ajmer division has been extended for the next 24 hours. Internet will be closed in the Jaipur division till 5.30 pm on July 1. In the districts of Sikar, Jhunjhunu, Alwar, and Dausa of the Jaipur division, orders were issued by the divisional commissioner to stop internet service for the next 24 hours.
Ajmer division has also not gotten relief from Internet Shutdown at present. The Divisional Commissioner has now issued orders to keep the internet closed in Bhilwara, Nagaur, Tonk and Ajmer till midnight on Friday.
In all four districts of Bharatpur division, Dholpur, Karauli Sawai Madhopur and Bharatpur, the internet will be closed entirely till noon on July 1. Lease line and broadband service will continue. The internet has been banned for rumours and videos going viral. Divisional commissioner Sanwarmal Verma has issued an order and again increased the ban on the internet.
Internet Shutdown will continue in the Kota division as well. Internet service will not be available for the next 24 hours in Kota, Bundi, Baran, and Jhalawar, all four districts of the Kota division.
Hanumangarh and Sri Ganganagar, two districts of the Bikaner division, have been given relief from Internet Shutdown.
Divisional Commissioner Neeraj K Pawan has issued orders to start internet immediately in urban and rural areas of Sriganganagar and Hanumangarh districts. However, Internet Shutdown continues in Bikaner and Churu.