Meal Management Tips During Corona Virus Lockdown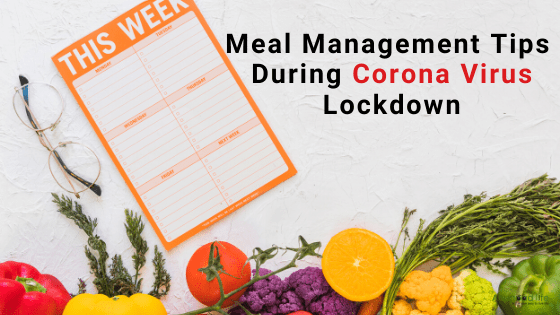 Overview
In different parts of the world, people are suffering from conditions like lockdown due to Corona Virus. There are various regions where the government has decided to restrict the population to come out from their home. That's why for many people it is getting harder to manage various things. We don't know how long until this condition continues. That's why we will tell you some meal management tips by which there can be ease in such circumstances.
One of the major aspects for people during lockdown is food. And the majority of people are aware that we don't have to go out too much. So given below are some references that can be followed to remain comfortable and safe during such scenarios.
What to do About Food
Some people are hesitating to go out for vegetables. It has been ordered to keep social distancing and that's many why people don't want to put themselves into a crowded place. But, the fact on which everyone should agree is that food proves to be essential for everybody's life. And you have to manage all those things for you and your family.
But what if you could bring all the essential items once for a week?

Isn't it a good idea!
An Honest Alternative
The above line can be applied to anybody with a positive approach. In these conditions, we must not compare our usual days with the current one. That's why it will not be a false word saying that there should be a limit on our expectations for some days.

Tip #1
If you go to the market, try to bring those vegetables which have a long life like potatoes and cabbage so you shouldn't have to make added rounds in the market. If possible, make a substitution of vegetables in the form of pulses as they prove to be healthy and a lot of varieties are available. So you can have lunch with vegetables and dinner with pulses or reverse.
Tip #2
It has been said to take the daytime meal heavy and nighttime meal a bit lighter. So you can take help from rice or oatmeal sometimes. They can also prove to help shuffle the places of vegetables and pulses.
Tip #3
During the Corona Virus outbreak, you would have heard about making the immunity stronger. Good immunity is helpful to fight this problem. So, try to bring those items that boost your immunity. For example, citrus fruits are a great option. You can also take help from spinach, ginger, garlic, turmeric, yogurts, sunflower seeds, almonds, kiwi, and papaya, etc.

Advice
Some things exist that can't be seriously followed by many people especially during the spread of Corona Virus. Researchers have said that they can sit on many substances for hours. That's why if you bring like fruits, vegetables, milk pouches or any other item, make sure to wash them properly and let them alone for some time.
Precaution
It has also listened that the virus can sit on our clothes and hairs as well. So, if you're going outside to bring something, take care and if possible, go for the shower first. We aren't frightening anybody with such things. This is a medium to spread awareness that we all need to unite by social distancing to keep this problem away from our loved ones and society.
Our Request
We must be thankful to God that he provides us so many comforts. Even in these conditions, we are getting at least two times meal a day. We request people to also take care of those who are nearby you and don't have any management of food. We can at least help by cooking food a bit extra to feed them. This will probably give us an extreme amount of joy and a good cause will take place.
Also read : Corona Virus – Things to Have Knowledge of