How to Make Dalgona Coffee | Dalgona Coffee Recipe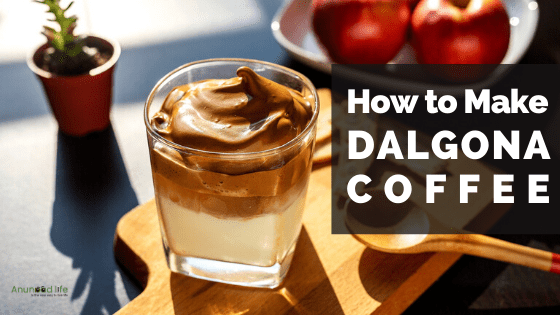 How to Make Dalgona Coffee?
There is a huge craze of different beverages all around the world. People like to have a cup full of sips during different events. One of the widely known beverages which almost everybody knows is coffee. Many of us are aware that people present coffee in different varieties and tastes. Out of which, a variety that is getting famous especially during Corona Virus lockdown is Dalgona coffee. Lets check out the Dalgona Coffee Recipe.
About Dalgona Coffee
The name 'dalgona' has arrived from the texture of the coffee which seems to be fluffy and toffee-like when whipped into foam. This is a South Korean blend that is trending on social networking sites. If you're also trapped in lockdown scenarios, have a positive approach. This is a time to spend a great time with family. And one cup of dalgona coffee for everyone can prove to be 'icing on the cake'.
But, if you have hesitation in mind about how to make this beverage at home, don't worry. We are here to assist you in providing the recipe for this coffee step-by-step.
Dalgona Coffee Recipe
Ingredients
This delicious coffee does not require a bunch of ingredients. In fact, you can make it with the items that are normally available in your home. Let's identify the essential items that will be needed to overcome this mission.
Instant Coffee
Chilled Milk
Sugar
Water
Ice
Procedure
Firstly you'll have to take instant coffee measuring around 2 tablespoons. Take a bowl and put the coffee inside. After that, add the same amount of sugar into it. There will be a requirement of putting 3-4 tablespoons of hot water in the bowl. With the help of hot water, both coffee and sugar will be able to dissolve well.
If someone wants to make dalgona coffee without a mixer, they can take help from hand-whisk. Thereafter, mix the ingredients well till the color of creamy light brown appears. When it is done, take a glass and put a couple of ice cubes. Now, you'll have to pour the chilled milk in that glass (around half-filled).
In the end, it's the time to show your class of making a recipe in front of others. Grace the milk with the topping of Dalgona coffee cream and your efforts are ready in the form of a white-brown colored glass. Share it with your family and enjoy the taste of delicious sips. You can also add something of your choice to enhance its yummy level.
Enjoy Quality Time
Many people are getting bored in this quarantine period. But, according to our perspective, this is a time to learn something better and interesting. Nature has provided us a chance to stay at our homes and sit with our family members. At such times, you should try to experiment with some recipes like Dalgona coffee.
For some days, there is no weekend for us as every day is a holiday. So, prepare yourself to make something for you and your loved ones. Try to limit going out and maintain social distancing. Also, take care of the poor peoples around you.

♥️ Love you Guys ♥️