How To Create Attention-Grabbing Videos For Your Websites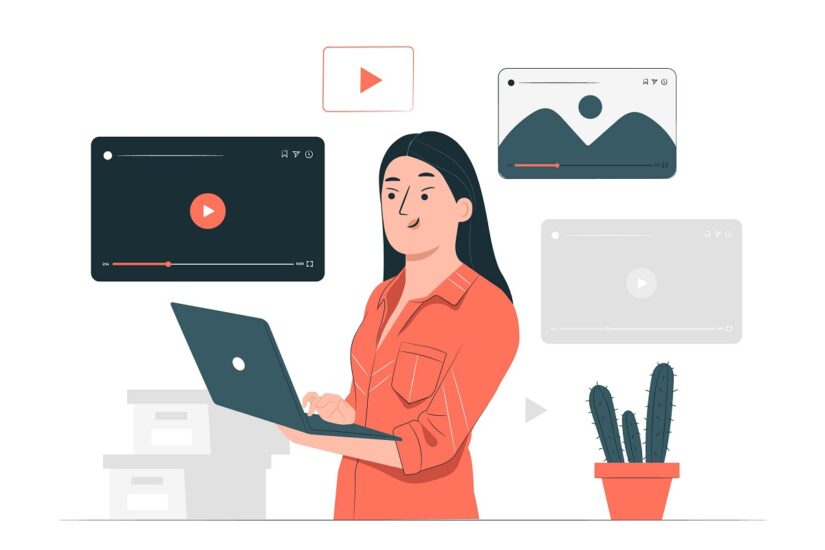 In recent times, videos have emerged as one of the most effective marketing tools. Video marketing has emerged as a leading marketing strategy, and those who have employed these strategies have found it to be quite efficient.
One of the most common practices of video marketing strategies is to post videos on your brand's website. These videos can help your website climb the ranking ladder on SERPs. 
A higher ranking of your website on SERPs leads to more visibility of your website and it drives traffic to your official website. This increased traffic makes your website available to a large audience present on the internet.
Videos also improve the dwell time factor of your websites. People tend to spend more time watching the videos on your website, hence leading to an improved dwell time factor. More than 80% of marketers believe videos are much helpful for improving the dwell time factor off their websites.
Hence it is proven that posting captivating videos on your website can be really helpful in its success, but how can one do it?
Here in this article, we are going to provide you with some really helpful tips to create attention-grabbing videos, which can be vital to the success of your official website.
Add an Impressive Thumbnail:
A thumbnail is the very first thing your viewer notice in your video. It is actually the cover image of your video.
Before hitting the play button, people will just see the thumbnail of your video, therefore it should be compelling enough to make them want to see the video.
Add enticing graphics, a lovely still from your video and an eye-catching title of the video and your thumbnail is ready. The video makers present online to provide you with a lot of features to create exciting thumbnails for your videos.
Go for a Compelling Title:
People are always most interested in the title of the video. So use this as an opportunity to grab their attention and make them watch the whole video.
Rather than opting for a simple title, go for creative yet impressive titles. They want to know what you have to offer to them in this video. Try to answer this question as creatively as you can in the title of your videos.
Give a Strong Intro to Your Video:
Well, just suppose your video's thumbnail and title were compelling enough to make the viewer hit the play button, but still, after a few seconds, if they don't understand what is going on, they will just close the video.
For this reason, the introduction to your video should be interesting as well as exciting. This would keep the attention of your viewer intact.
One of the best ways to do this is to introduce properly and clearly what you intend to explain in this video. Add exciting graphics, use animations, and stick to the point. These animations and special effects can be easily added, using the vast variety of features being offered by online intro maker.
Make your Video Look Nice:
Apart from the content, you have to offer in your video, the one thing that matters the most is the outlook of your video.
Your video should look as lovely as it can if you want to grab the viewer's attention. It should not just be a pile of pictures or texts moving in frames, one after the other.
You may add transitions between the slides, include colorful backgrounds, and frequently use stickers, emojis, and even GIFs in your videos. Make the text look appealing and much more.
The more the viewer is fascinated by the visuals moving around, the more he is attentive to the details of the video.
For this purpose, you may use the wide variety of features provided by the online video makers to make your visuals look fascinating to the viewers.
Keep Your Videos Short:
Where people are much intrigued by the video content, they get easily bored when watching a longer video. This is mainly because the attention span of many people tends to shrink as the video keeps moving forward.
So it is better for you to create shorter videos for your website, to keep your viewers attentive to the content.
If for any reason, the video tends to be longer than usual, you may split it into parts using the split option provided by many video makers available online. Then you may post that video on your website in parts.
Stay Relevant to The Topic:
People don't like it when they are watching a video on a certain topic and suddenly the content gets irrelevant.
Make sure the entire video you make is all about the topic, and that you don't go irrelevant, even for a few seconds. Going off the topic eventually leads to your viewer losing interest in that video.
Include a Call To Action:
Now that you have successfully grabbed the attention of your viewers, and made them watch your videos, it is time for you to include a call to action.
This call to action should clearly convey the message of your brand and should state what you want your customers to do. Adding an effective call to action in your video surely helps you in achieving your particular goals from that video.
Final Words:
Video marketing is all about creating eye-catching videos to attract more customers. Posting impressive videos on your official website can really be a game-changer for your business.
Just try to make video content that suits the needs of your customers and grabs their attention within a few seconds.
A large number of video makers present online and the vast variety of features being offered by them has made it much easier for anyone to create attention-grabbing videos for their websites, within no time.
Use these attention-grabbing videos to attract more customers and reach out to them in an advanced manner.